Scotch Macaskill's Wildlife Blog
IMPORTANT: Please note that from April 2009 this Blog's Web address changed as a result of a switch in the blogging platform we use. It's still an integral part of the Wildlife Pictures Online website and, we hope, will continue providing entertaining and enjoyable content in the form of wildlife images, news, views and information.
For the most recent posts, links, and other resources, please visit the new Wldlife Photography Blog.
Today's Picture: Ostrich Male
February 14, 2008
Photo Details: Male ostrich (Struthio camelus) on the move, Okavango Delta area, Botswana.
Camera: Canon EOS 400D; Lens: Canon EOS 70-300 IS Zoom; Focal Length: 300mm; Shutter speed: 1/320; Aperture: f8; ISO: 200.
Additional Info: The ostrich, the world's largest living bird, cannot fly. But with its powerful thighs and long legs, it can run at speeds up to 70 km/h (about 44 mph) over short distances and over longer distances at around 60 km/h (37 mph). The male is predominantly black with white wing tips and tail (as in the picture above), while the female is a more uniform grey/brown colour.

Leopard Information and Facts
February 18, 2008

A new page containing leopard information plus interesting facts about this sleek and powerful cat has been added to the Wildlife Info section of the website.

If you want to find out more about typical leopard habitat and behavior, reproduction and family life, plus how leopards hunt and what they eat, then this article should answer most your questions. A number of leopard pictures have been included to help illustrate the written content.
| | |
| --- | --- |
| Large head with powerful neck & shoulders | Leopard spots in rosette pattern |
Monkey Pictures Updated
February 26, 2008

The Monkey Pictures have been updated, with new pictures added. Each thumbnail picture now links to a new web page with a larger picture plus relevant information about the location and camera equipment used.
In addition, the Cheetah Pictures and Baby Animal Pictures have been updated with some additions and changes. Many pictures in the Gallery section were taken some time ago and are of mediocre quality, so need to be replaced with better images that I have available.
On Wednesday, 27 February I will be leaving to spend a week in Mashatu Game Reserve in Botswana's Tuli Block region. Mashatu has gained some international exposure in the past couple of years as a result of the "Wildcam Africa" that National Geographic runs from Pete's Pond during the dry winter months when animals have little access to water.
At this time of year it is extremely hot and there has been more rain than usual, so the area should be looking spectacular. That means there is plenty of water for the animals, so they don't congregate at water holes, while the thicker vegetation can also make viewing difficult. There are always large herds of elephant in the area, so I'm sure we'll still see plenty of these even if we don't see many cats and other predators.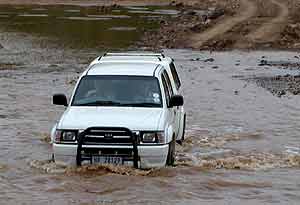 The Limpopo River that forms the border between South Africa and Botswana in this region is evidently flowing strongly, which means we'll have to cross in the small "basket" or cable car at Pont Drift border post instead of driving across as is possible when the river is shallow. See picture right.

Back to top of page
Previous Entries
By Month
By Category
---
My Original Blog
2005 Entries
2004 Entries
2003 Entries
---
Who Am I?
Brief Bio
Back to Wildlife Blog Home Page
Contact Details: Scotch Macaskill, Dirt Road Traders, Currys Post Road, Howick, KwaZulu-Natal, South Africa. Tel: +27 (0)82 578 2329. Privacy: Your privacy is guaranteed. See our Privacy Policy for more. This site accepts advertising and other forms of compensation - see Disclosure and Advertising for details. Site updated: 2019. Copyright © 2002 - 2019 Scotch Macaskill