Canoe Safari on Lower Zambezi
T

here are few better ways to experience the African bush than a canoe safari on the lower Zambezi River.

This stretch of water lies between two national parks - Mana Pools NP to the south in Zimbabwe, and the Lower Zambezi NP to the north in Zambia - so is nearly free of river traffic.

The wide expanse of the main river is dotted with islands of varying size, while its edges are frayed by tributaries and smaller side channels.

Enter one of these and you're in true wilderness - no vehicles, no buildings, no people.
Canoeing the Zambezi River's channels provides an exhilirating wilderness experience
The tranquility is exquisite as the current pulls you gently downstream. Long passages of silence are broken only by bird calls and the occasional swish of wings as a goliath heron or yellow-billed stork rises majestically ahead.
With no window frames or vehicle canopies to restrict your view, the vista is breathtaking.
The pastel shades of the Zambezi Escarpment mutate subtly in tandem with the shifting sun, while riverbank regulars - elephant, buffalo, waterbuck - provide a more immediate but ever-changing canvas.
Silence and serenity nourish the soul, penetrating the mental barriers necessary to survive in a modern world.
Relaxed and introspective, you round a bend and the channel narrows.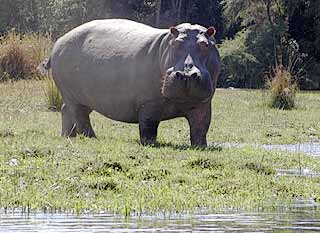 Hippo on the banks watches our approach
Alarmingly Close
And there - alarmingly close and looming ever larger - are two hippos grazing on the banks. They raise their heads in unison and stare. Downstream are more heads poking above the surface.
Roddy Smith, our river guide in the lead canoe, turns and calmly gives instructions:
"Just take it easy ... we'll give the two on the bank a chance to swim. They'll make for deeper water, so we'll hug the bank."
As we drift rapidly closer, the two hippos plunge into the river, sending ripples our way before vanishing under the surface.
Where are they? Which way are they heading? Questions race through the mind, pleasant daydreams torpedoed by surging adrenaline.
No Stopping or Turning Back
The current is omnipresent. There's no stopping or turning back.
Roddy takes a line closest to the submerged hippos, slowing his canoe and acting as a buffer. The rest of us - four canoes in all - must take the narrow gap between his canoe and the bank.
But we're bunching and a collision seems inevitable. "Watch the bank", Roddy calls. "If you hit, your tail's going to swing round and block the path."
Then in seconds - or was it minutes? we're safely through, pulses racing. Roddy quickly catches us and moves to the front again, his powerful Zeiss binoculars already scanning for the heads we'd previously spotted.
Burst of Hippo Talk
Behind us there's a burst of hippo talk, grunting and snorting, as the two resurface to discuss the interruption of their morning routine.
Amongst us, the excitement - and relief - manifests itself in a flurry of light-hearted insults directed at partner's paddling and navigational skills.
But silence quickly returns as minds focus on the next pod of hippos ahead. The string of ears and nostrils poking above the surface looks alarmingly like a minefield.
As we slowly approach, the hippos move grudgingly to deeper water, allowing us passage. Roddy doffs his hat, greets them with a friendly "Morning chaps" and we glide past.
Only minutes later a huge Nile crocodile, basking on a grassy sandbank, rises silently at our approach and slips into the river.
A huge Nile crocodile basking on the banks
A few more close encounters with hippos - each one exciting as the last - and the channel widens again.
Luxury! Lunch and drinks
Phew! Time to relax once more and enjoy the wildlife.
Constant Companions
Our most constant companions on the river are herons (grey, rufous-bellied, goliath), storks (open-billed, yellow-billed), bee-eaters (little, whitefronted), kingfishers (pied, giant), plus egrets, jacana, white-crowned plovers, fish eagles and egyptian geese.
A number of times we encounter elephant wading and drinking in the shallows. We also see buffalo, plus waterbuck, baboons, and impala. Although cats are sighted when canoeing, we are not so lucky.
The morning's adventure ends with a welcome stop for lunch and drinks in a shady spot on the river, before a leisurely game drive back to camp.
That's one of the great benefits of a canoe safari - you can combine canoeing with game drives, enjoying the best of both worlds.
For keen photographers, the wildlife presents some unique picture opportunities as you're shooting from just above water level, towards the land. The drawback is you're always moving, making it difficult to frame and focus your subject. And make sure your gear is insured in case you take a spill.
| | | |
| --- | --- | --- |
| Elephant watches as we canoe past | Buffalo making a splash | Colorful Whitefronted bee-eater |
The canoe safari we chose included accommodation at two luxury lodges (Mwambashi River Lodge and Royal Zambezi), daily canoe trips plus game drives and tiger fishing, all within Zambia's Lower Zambezi National Park. For the big picture on activities available in the park, see Safari Lower Zambezi.
For the more adventurous, there are self-contained canoe safaris where you carry all your own gear and camp overnight. Whichever you choose, you can expect an unforgettable wilderness experience.
By Scotch Macaskill ©
Permitted Uses: Photographs under copyright. See Terms of Use.
Return to Safari Info.