Safari Lower Zambezi
A safari to the Lower Zambezi National Park in Zambia offers an exhilarating range of outdoor activities, making it the ideal destination for groups or families with teenage kids.


What differentiates this 4090 sq km park from landlocked wilderness areas is the mighty Zambezi River, Africa's fourth largest, that flows along the park's southern boundary for about 120km.
Instead of being limited to twice-daily game drives - and possibly guided walks - as happens in most game parks, visitors to Lower Zambezi are spoilt for choice.
Here the wide expanse of water is parent to numerous tributaries, channels, and small islands that invite exploration.
Depending on your mood or your interests, you can on any day choose to:
Canoe the river with an experienced river guide
Take a leisurely sundowner cruise
Go fishing from the comfort of a powerboat
Try your hand at fly fishing from the banks
Take a game drive
Go on a guided walk
Laze around the swimming pool and enjoy the view
Upmarket Lodges
There is no camping in Lower Zambezi and accommodation is provided by several upmarket safari lodges, all of which offer a full range of activities.

There is of course also the wildlife. Most the safari lodges are situated near the water's edge and are not fenced, so it's essential to understand you are a guest in the animals' territory.

At night hippo come out of the river to feed and if you hear loud chomping from your safari tent, it's more than likely a hippo grazing on the green grass around your accommodation. It could also be a buffalo or two. Or maybe even an elephant.

Should you need to go to the bathroom at night, it's definitely not advisable to wander outside. Fortunately, with this standard of accommodation, you'll have a private bathroom.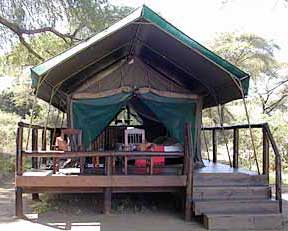 Comfortable safari tent on raised platform with own balcony and private bathroom.
If you do want a closer view of hippos, then a canoe trip is the way to go. Sometimes the view can be unnervingly close and canoeing is definitely more suited to those who don't mind the odd adrenaline rush.
But what better way to view wildlife, including numerous bird species, than drifting slowly down a side channel, the silence broken only by bird calls and the gentle slap of paddles?
In addition to the birds and large number of hippos, you're likely to see crocodiles, elephants, buffalo, antelope, baboons and, if you're lucky, the odd lion, all from a different vantage point.
An elephant in the river takes on a whole new perspective, literally, when viewed from only a few meters away in a frail canoe.
| | |
| --- | --- |
| Drifting slowly down a side channel | Wildlfe from a new angle ©Rod Smith |
Game Drive
If you prefer a more conventional view, then an early-morning or afternoon game drive offers the ideal alternative. In addition to zebra and antelope - impala, kudu, waterbuck - you're likely to see elephants and quite possibly large herds of buffalo.
Although there's no guarantee of seeing big cats, lion prides and leopards are frequently sighted in the park on game drives.
The afternoon drives are usually punctuated by a welcome stop for drinks and snacks as you watch a spectacular African sunset from a carefully chosen vantage point.
You then head back to camp in the dark, using spotlights to pick out nocturnal activity. These return drives can vary from uneventful to quite extraordinary, depending on what critters of the night you're lucky enough to see.
Zambezi Tiger Fish
So maybe canoeing and game viewing is not your bag? You still have the option of taking on the river's famed Zambezi Tiger Fish, renowned for their great fighting spirit.
You can fish with bait or lures from a boat, accompanied by an experienced coxswain who'll take you to the best spots or, if you prefer something more challenging, try bagging a Tiger with a fly rod from the river banks.
Either way, you'll find it easy to spend pleasant hours in the serenity of the unspoiled river, broken only by regular bursts of activity as a tenacious Tiger takes and runs with your line.
All angling is on a catch and release basis in the interests of conservation.
| | |
| --- | --- |
| Fish for Zambezi Tiger from a boat | Or sip a cool beverange on a sundowner cruise |
Guided Walks
If you feel you're not getting enough exercise and want a more intimate experience of the African bush, a Guided Walk can normally be arranged.
Your guide will arrange a National Park escort and together they'll take you on a walk through the wilderness where you'll see colorful forest birds, animal tracks, and wildlife from foot.
Walking is also the best way to learn more about Africa's often-forgotten wildlife - the small rodents, reptiles and fascinating species of insects that play essential roles in the cycle of nature.
Sometimes, when you can't make up your mind what to do next, the best solution is to sip on a long, cool beverage and postpone decision-making to another day.
You'll struggle to find a more relaxing and visually splendid venue for this than a sundowner cruise, putt-putting slowly down the Zambezi on a comfortable pontoon. Sit back and soak in the view as the setting sun casts its reflections on the water - first fiery reds, then subdued oranges and, as you head home, subtle pinks.
No doubt about it - the Lower Zambezi National Park has something for just about everyone and is close to the perfect safari destination for groups or families with diverse interests.
How to get there:
Visitors normally fly to Lusaka in Zambia then catch a charter flight to the airstrip within the park. It is possible to drive to the lodges, but you need time to spare and a 4x4 vehicle.
More on Safaris to Zambia:
See Canoe Safari on Lower Zambezi for more about canoeing on the Zambezi River.
By Scotch Macaskill ©
Return to Safari Info.