Leopard Notes 1
Welcome to our opening page of images and brief notes about leopards (panthera pardus), leopard behaviour and leopard sightings based on visits and photo safaris to game reserves and national parks in southern Africa. All images © Scotch Macaskill - for more, see Terms of Use.
---
Leopard with Blue-Grey Eyes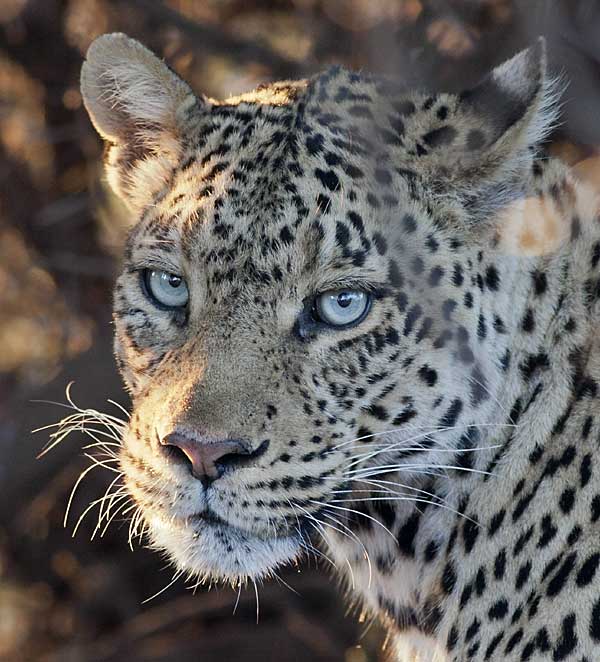 Caption: Young male leopard with striking blue-grey eyes, Mashatu Game Reserve, Botswana.
Camera: Canon EOS 50D; Lens Canon EF 400mm f/5.6L USM; Shutter speed: 1/50; Aperture: f/5.6; ISO: 800; Subject Distance: 11.5 m
This young male leopard was one of two siblings we saw on a visit to Mashatu Game Reserve. Although already quite big, they couldn't fend for themselves and had to rely on their mother for bringing home food.
I first saw them a year earlier, under different circumstances. At the time, there were three cubs, two male and one female. The female was a lot smaller and clearly had been pushed aside by her bigger brothers when suckling.
She also had an injured leg and couldn't keep up with her mother and siblings. However, we did find her feeding on the remains of an impala kill that the mother had left for her. At the time, we wondered if she would survive.
Well, she did – and when we next spotted her she was almost as big as her brother. Unfortunately, the other male didn't survive, evidently killed by a lion.
Below is a picture of the young female. Note the very clear difference in eye color. Both photos were taken in shade under similar conditions.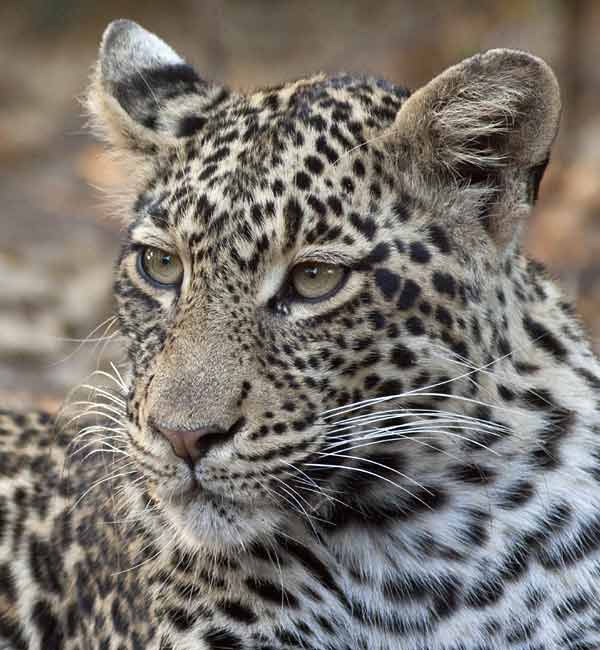 ---
Leopard's "Keep your Distance" Stare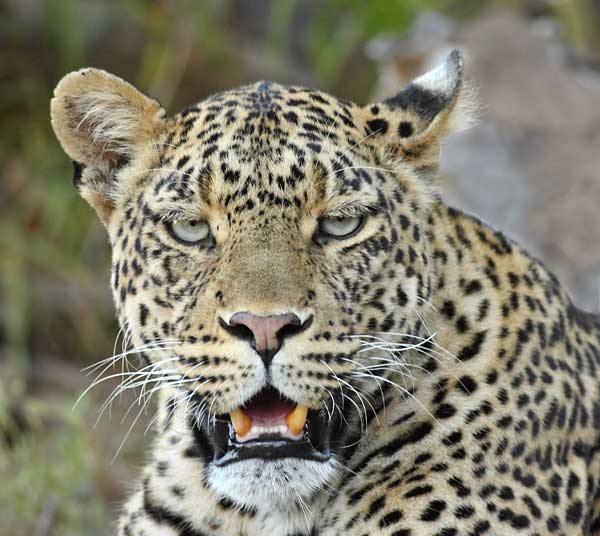 Caption: Big male leopard (Panthera pardus) makes eye contact, giving us a warning stare, Mashatu Game Reserve, Botswana.

Camera: Canon EOS 50D; Lens: Canon EF 400mm f/5.6L USM telephoto; Focal length: 400mm; Aperture: f/5.6; Shutter speed: 1/125; ISO: 400

We found this magnificent leopard male while on an afternoon game drive in Mashatu Game Reserve. But we didn't find him by luck — we were pointed in his direction by two cheetah we'd been watching. The two streamlined cats, as if in unison, suddenly turned and focused intently on some point in the distance, aware of something we couldn't see. They then moved off quickly in the opposite direction.

Our safari guide immediately went in search of whatever had caused their agitation and soon enough we sighted the leopard lying relaxed in a shady spot, exactly where the cheetah had been watching.

Although our vehicle was some way off, the leopard initially ignored us before looking directly at us, giving us the "keep your distance" stare. He then padded off, briefly passing ahead of us through dappled sunlight (below). The image has been manipulated in PhotoShop, but is actually quite close to how I remember the scene.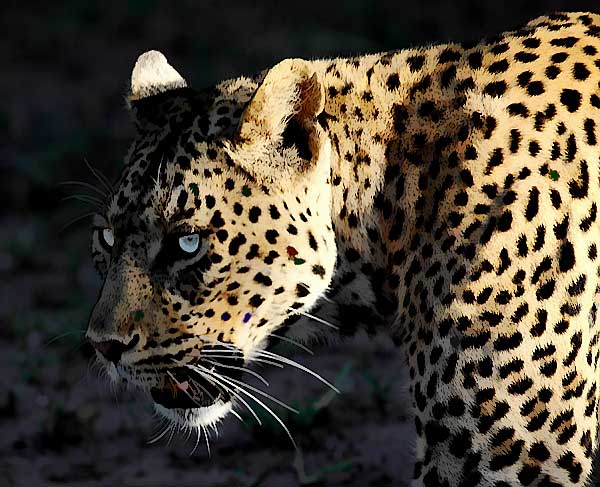 ---
Leopard Cub on Termite Mound
Caption: Leopard cub (Panthera pardus) relaxing on a termite mound in fading light, Mashatu Game Reserve, Botswana.

Camera: Canon EOS 50D; Lens: Canon EF 400mm f/5.6 L USM; Focal Length: 400mm; Shutter speed: 1/40; Aperture: f/5.6; ISO: 800

On a recent visit to Mashatu Game Reserve in Botswana's Tuli Block, we were fortunate to see an excellent variety of wildlife.

Some of the highlights incuded sightings of a cheetah mother with her sub-adult cub, three leopard cubs, lions, hyenas, numerous jackals, vultures squabbling over a lion kill, and even a porcupine at dusk.

The above photo is of one of the leopard cubs, a female, that we found alone with the remains of a kill that she fed on before posing for us on a termite mound. We later saw the other two cubs well camouflaged in a leafy tree, but never saw the mother, although she must have been nearby.
---
Leopard on the Lookout
Caption: Leopard female (Panthera pardus) keeps an eye out for potential prey as she moves silently through dry winter vegetation, Elephant Plains Game Lodge, Sabi Sand Wildtuin, South Africa.

Camera: Canon EOS 1D Mk II; Lens: Canon EF 70-300mm USM IS telephoto zoom; Focal Length: 280mm; Shutter-speed: 1/500; Aperture: f/7.1; ISO: 400

While the above leopard picture is rather cluttered and busy when compared to the classic shot of a leopard relaxing languidly on a tree branch, it does show this cat's superb camouflage and alert demeanour as she picks her way through the winter vegetation.

Jump to Leopard Notes 2 or return to Wildlife Notes Home