Leopard Notes 2
Welcome to page 2 of images and brief notes about leopards (panthera pardus), leopard behaviour and leopard sightings based on visits and photo safaris to game reserves and national parks in southern Africa. All images © Scotch Macaskill - for more, see Terms of Use.
---
Leopard Female Portrait, Side View
Caption: Portrait of female leopard (Panthera pardus), profile view, Sabi Sand Game Reserve, South Africa.
Camera: Canon EOS 400D (Digital Rebel XTi); Lens: Canon EF 70-200mm f/2.8L IS USM; Focal Length: 200mm; Shutter speed: 1/400; Aperture: f2.8; ISO: 400.
Additional Info: This image was taken quite late in the afternoon in mid-winter, so the light was fading fast. Fortunately I was using a "fast" lens – a Canon EF 70-200mm f/2.8L IS USM zoom – that helped save the day for me. I had already dialled the ISO up to 400. On my rather basic camera bodies — an EOS 400D (Digital Rebel XTi) and 450D (Digital Rebel XSi) — I'm happy to accept the small amount of visible noise at 400 ISO in return for the extra shutter speed.
The EF 70-200 f/2.8L IS is a wonderful lens for wildlife photography as the big f/2.8 maximum aperture allows shooting in low light at shutter speeds fast enough to counter camera shake and subject movement, while also throwing the background out of focus.
For the above picture, I was able to shoot at 1/400 by keeping the aperture wide open, which helped ensure a sharp image. Of course image stabilization helps, but one must also take into account the 1.6x crop factor of the EOS 400D, which meant I was using an "equivalent" focal length of 320mm.
The one downside of this lens that users regularly complain about is the size and weight. A very popular alternative is the smaller brother — the Canon EF 70-200mm f/4L IS USM zoom. This is a lens that elicits only superlatives from its users, with some swearing that it's sharper than the f/2.8. The main advantage however is its smaller size — length of 6.8″ (172mm) v 7.8″ (197mm), and significantly lighter weight — 1.67 lbs (760g) vs 3.24 lbs (1470g).
This makes it ideal as a travel lens when weight is critical but you still need superior optical quality plus weather sealing to keep out dust and moisture. The advanced image stabilizer provides up to four stops of camera shake correction, making it easier to hand-hold than its heavier sibling. For more, including user ratings and reviews, see Canon EF 70-200mm f/4L IS USM telephoto zoom.
---
Leopard Lying on Rock Against Night Sky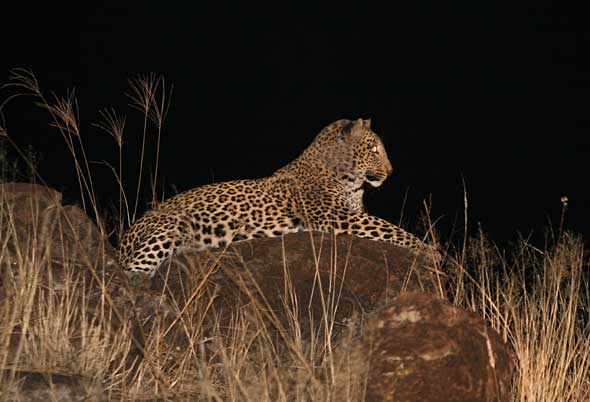 Caption: Leopard (Panthera pardus) lying on a rock against night sky, Mashatu Game Reserve, Tuli Block, Botswana.
Camera: Canon EOS 400D (Canon Rebel XS 10.1MP); Lens: Canon EOS 80-200 F2.8 zoom; Focal Length: 200mm; Shutter speed: 1/60; Aperture: f2.8; ISO: 400; External flash.
Additional Info: We spotted this leopard during the early part of a night-drive (6.30pm, winter) and were fortunate that it opted to settle comfortably on a rock, as if posing for us (or because we'd ruined its hunt – see below).
I took the picture with a flash mounted on the camera's hot-shoe. I'm not crazy about taking flash photographs of animals at night, mainly because of the harsh shadows cast by the flash and the "red-eye" effect that often occurs. Luckily in this case the leopard's pose against the night sky eliminated the shadows, while red-eye is minimised because the animal is looking away from the camera.
There is, however, an additional reason that is making me question the use of flash for photographing wild animals at night, and that's the sensitivity of their eyes to bright light. The whole issue of game viewing at night is a contentious one. The "night drive", for which you need spotlights to find the animals, is a popular safari activity, but the bright spotlights evidently cause distress to the animals and, certainly in the case of predators, interfere with their hunting.
Roddy Smith, a veteran safari guide based in Zambia's Lower Zambezi National Park, is vehemently opposed to the use of spots at night, unless they're covered with red filters. According to Roddy, "night-drives using conventional white spotlights are as intrusive and disruptive to animals going about their after-dark business as papparazzi are to royal girlfriends". Read more about the use of spotlights in Roddy's article, Safari Night Drives and the Red-Light Experience.
---
Leopards Honing their Hunting Skills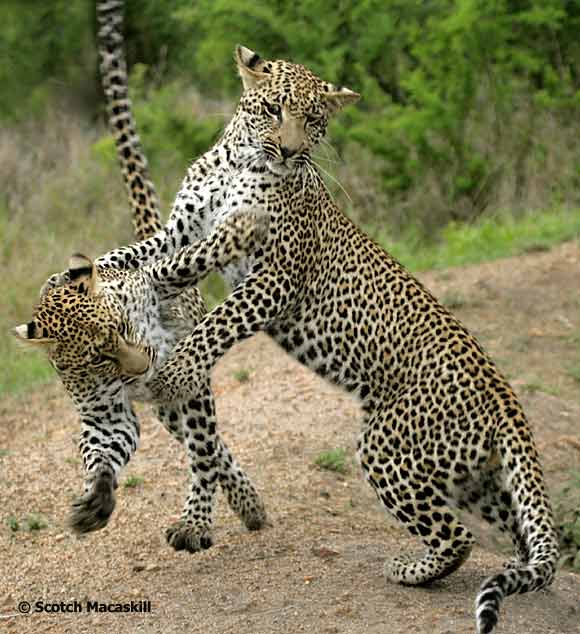 Caption: Young leopard siblings at play, honing their hunting and fighting skills, Elephant Plains Game Reserve, Sabi Sands, South Africa.
Camera: Canon EOS 400D; Lens: Canon 100-400 IS Zoom; Focal Length: 100mm; Shutter speed: 1/640; Aperture: f5.0; ISO: 400.
Additional Info: These young leopard siblings look like they're having a fairly serious fight. But, like the young of lions and cheetahs, it's partly play and partly "school" - learning and practising the skills and techniques they'll need later in life to stalk, attack and bring down prey.
---
Leopard in Tree with its Kill
Caption: Leopard (Panthera pardus) dozing in tree with its kill, a female kudu, safely stashed nearby, out of reach of hyenas and other scavengers, Elephant Plains Game Reserve, Sabi Sands, South Africa.
Camera: Canon EOS 400D; Lens: Canon 100-400 IS Zoom; Focal Length: 100mm; Shutter speed: 1/3; Aperture: f4.5; ISO: 400. Lighting from hand-held spotlights.
Additional Info: It was after sunset when the tracker on our game drive vehicle, his eyes still glued to the road surface, picked up the spoor of a leopard dragging its kill. He and our driver/guide then casually followed the spoor leading from the sandy road into the bush - on foot and unarmed. They returned shortly to report they'd found a female leopard with her kill fairly close by.
We approached quietly in the vehicle until we could see the leopard lying in the grass with her prey, a young female kudu. The leopard appeared to be resting, probably after the exertion of dragging the large antelope this far. While we watched, two spotted hyena approached, attracted by the smell of blood.
Normally a female leopard, weighing around 40kg (90lbs) is unlikely to take on a single hyena, never mind a pair of them, to protect her kill. Although leopards are incredibly strong for their size, they are more likely to sacrifice a kill than risk an injury that would compromise future hunting.
In this case the leopard was simply too quick for the hyenas. In the blink of an eye she had picked up the kudu, covered a dozen yards and bounded up the trunk of a nearby tree. It was awesome, astounding, that she could move so fast while carrying a dead kudu that must have weighed as much as she did. This monumental effort, on top of her previous exertions, had clearly exhausted her and she immediatly fell asleep, her head resting on the kudu's torso.
Only after about 10 minutes did she stir, moving to a more comfortable position (above), where she could sleep with her meal securely stashed nearby.
Jump to Leopard Notes 1 or return to Wildlife Notes Home