Scotch Macaskill's Wildlife Blog
IMPORTANT: Please note that from April 2009 this Blog's Web address changed as a result of a switch in the blogging platform we use. It's still an integral part of the Wildlife Pictures Online website and, we hope, will continue providing entertaining and enjoyable content in the form of wildlife images, news, views and information.
For the most recent posts, links, and other resources, please visit the new Wldlife Photography Blog.
New Photography Article
January 9, 2006

A new article about camera tripods has been added to the main site under the Photo Info section.

If you've ever found that some of your photos - traditional or digital - are not as crisp as you hoped, then it's possible that the blur is caused by camera movement.

Under low light conditions it's usually necessary to use a slow shutter speed to expose your subject correctly. That's when camera movement can have a detrimental affect on your pictures unless you keep the camera dead steady.

When you use a telephoto lens, any camera movement is accentuated, so again it's wise to keep the camera as steady as possible.

It's in these situations that a tripod becomes essential, ensuring your pictures are crisp, even when enlarged.

To find out more about using tripods and the options available, see Why Should I Use a Camera Tripod?

Baby Animal Pictures added to the Gallery
January 9, 2006

Pictures of baby animals - whether domestic animals or those living in the wild - always have a special appeal. There's something about "miniature" versions of animals that we can't resist - maybe, in addition to the visual appeal, it's their innocence and vulnerability that hits a soft spot.

Mothers in the wild keep a close eye on their offspring and often hide them in thick vegetation as protection from predators, so the little ones can be difficult to photograph. However, I've managed to put together a reasonable selection, including pictures of baby lions and baby elephants.

You can visit Baby Animal Pictures to see the full selection.

Today's Picture: Nyala bull at waterhole
January 9, 2006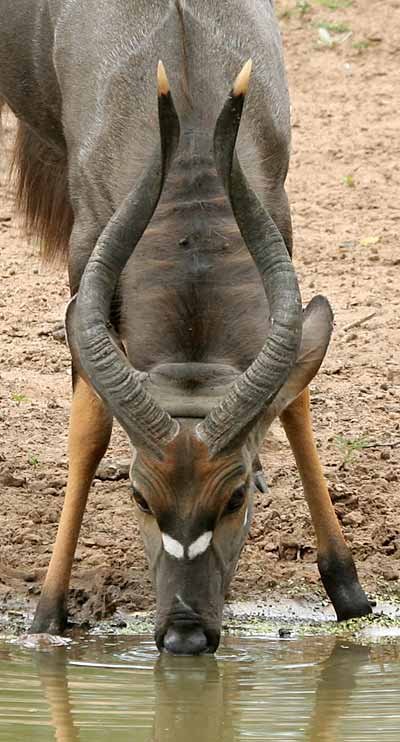 Photo Details: Nyala bull (Tragelaphus angasii), in bending forward to drink from a waterhole, shows the elegant, lyre-shaped horns with ivory-colored tips that are characteristic of this handsome antelope. Mkhuze Game Reserve, KwaZulu-Natal, South Africa.
Camera: Canon EOS 350D; Lens: Canon 100-400 IS Zoom; Focal Length: 210mm; Shutter Speed: 1/320; Aperture: f6.3; ISO: 400

Back to work - and blogging
January 9, 2006

After a couple of weeks' break over Christmas - traditional vacation time in South Africa - it's time to get back to work. So I'll follow the example of the little fellow below, a dung beetle uncomplainingly pushing his ball of animal dung. To accomplish this, he stands on his front legs and bushes backwards, slowly rolling the ball to whatever destination he has in mind.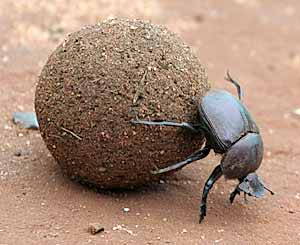 Dung beetles belong to the family Scarabaeidae and are also known as scarabs. They roll their balls of dung to a suitable soft spot where they dig a hole and bury it. The buried dung then serves as a source of food for adult beetles, and also for the larvae when they hatch from eggs laid on the dung balls.

Today's Picture: European Roller
January 11, 2006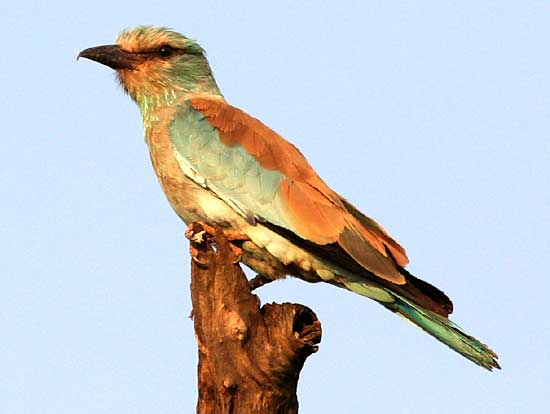 Photo Details: European Roller (Coracias garrulus) perched on tree stump, Mkhuze Game Reserve, KwaZulu-Natal, South Africa.
Camera: Canon EOS 350D; Lens: Canon 100-400 IS Zoom; Focal Length: 400mm; Shutter Speed: 1/640; Aperture: f8; ISO: 400
Additional info on European Roller:
The photo above is of a young specimen as it's coloration is still quite dull compared to the vivid colors of adult birds. It also has patches of brown on the chest and head which in the adult are a uniform blue. European Rollers are common summer residents in southern Africa. They arrive in the north of the region (Zambia, Zimbabwe) in October, stay for a while, and then head further south, reaching South Africa around December. They depart again - for Europe, the Middle East and western Asia - usually in February.

A Passion for Big Cats
January 12, 2006

I get quite a lot of emails from people asking permission to use my pictures.

Although I mention in my Terms of Use that images can be downloaded and printed for personal enjoyment and for non-commercial educational or conservation purposes, many people still make the effort to ask if they can use pictures for school projects, personal artwork and the like. I appreciate that.

I don't like saying "No", but I do refuse those requests where there's a profit motive, whether this be for a web site that carries adverts or for arwork that will be sold. In such cases I regard the images as raw materials, which you would normally buy if you're creating something for profit, so I'm not prepared to give them away.

Unusual Request
Recently I received an email with an unusual request - one that I certainly could never refuse! Here's what the lady (I'm not disclosing her name to respect her privacy) wrote:

"I fell in love with one of your pictures, a GORGEOUS picture of a lion, I've never seen such a beautiful creature!

"I was wondering if there is any way I could get your permission to get use this picture as a tattoo for myself. I do understand if you say 'no'. But, I will explain why I want this picture to use for my own 'art'.

"My husband and I know a wonderful man named Ray Thunderhawk who rescues the big cats. I am fortunate to know many of his cats since they were cubs. My favorite cat, a tiger, passed away three years ago and I have his image on my forearm. Ray knows how much I loved this tiger and is happy that I have him on my arm.

"I would be very honored if you would allow me to use this gorgeous lion image as a personal expression! The picture would be used to make a 'stencil' which would then be transferred onto me and the tattoo filled in.

"I know this is probably a strange request, but I'm not a 'common' tat girl. The tats I have on me are VERY personal and mean something to me. I don't get them because they are 'cute' or 'pretty'. I get them because they are part of who I am.

Thank you so much for taking the time to listen to me, I hope you have a wonderful day!"

Even if there was a commercial motive, which there wasn't, how could one refuse such a request?

So I replied that I'd be most flattered to have one of my pictures used as a tattoo, which indeed I am. To me, it's much more exciting than having a photo appear in a book or magazine.

Imaging Software Makes Changing Faces Easy and Fun
January 15, 2006

Want to mock your:
Friends
Family
Boss
Teachers
Roommate
Cellmate
Neighbors?
Then have a look at Faceonbody.com - newly-released imaging software "designed to move any Face to any Body!".

It's irreverent, easy to use and plenty of fun. Not too sure where you stand on copyright, as the software makes it a breeze - in fact it encourages you - to find faces of politicians and celebrities on the Net.

You can download a trial version to play around with, but the images are watermarked until you buy the software for $24.95.

I couldn't resist the temptation. Below's a fairly lame attempt - but you get the idea. Could become addictive - and also get you in trouble!
Today's picture: Zebra Biting its Tail
January 15, 2006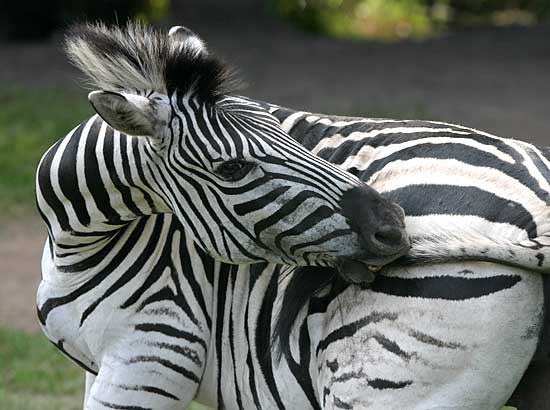 Photo Details: Burchell's Zebra (Equus burchelli) nibbling the tip of its tail, Kenneth Stainbank Nature Reserve, KZN, South Africa. As can be seen, this maneuver required some serious neck stretching and head-to-tail co-ordination. Must have been a bad itch, or maybe an irritating insect was the cause.
Camera: Canon EOS Digital Rebel; Lens: Canon 80-200 F2.8 zoom; Focal Length: 200mm; Shutter Speed: 1/500; Aperture: f5; ISO: 400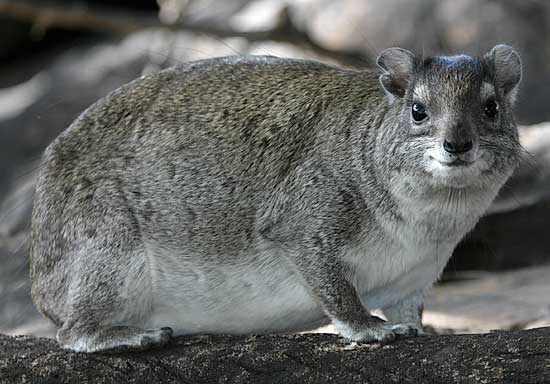 Photo Details: Rock Hyrax or Dassie ( Procavia capensis) crouching on low branch, Mashatu Game Reserve, Botswana.
Camera: Canon EOS Digital Rebel; Lens: Canon 100-400 F5.6 IS zoom; Focal Length: 200mm; Shutter Speed: 1/160; Aperture: f5.6; ISO: 400
More Info: The above photo was taken at Rock Camp, a small private camp in Mashatu Game Reserve in Botswana's Tuli Block.
Rock Camp is flanked by a rugged, rocky outcrop, hence the name. This area is home to hundreds of dassies or rock hyraxes that live in the numerous crevices between the rocks.
The dassies emerge in the morning and can be seen basking for hours on the boulders and any low branches or tree stumps. They have slow metabolisms that make them dependent on the sun's heat to keep warm..
Although these small creatures don't look particularly agile, they have rubbery soles on their feet that allow them to move rapidly across, and up or down, the rocks.
Tomorrow I'll be returning to Rock Camp for five relaxing days, so thought it appropriate to feature one of the local residents.
Mashatu Game Reserve has had good summer rains in the past few weeks, so the wildlife has dispersed, which suggests sightings of wildlife will be sporadic at best.
I'll pay a courtesy visit to Pete's Pond, the small waterhole that gained international recognition after National Geographic set up a webcam there late last year, but it's doubtful if there'll be much to see. (You can find out more about Pete's Pond and the webcam from here if you're interested.
There should nevertheless still be elephants in the area and, with luck, maybe some Big Cats, so hopefully I'll have some pictures to post once I'm back.

Today's Picture: Rainbow Clouds
January 27, 2006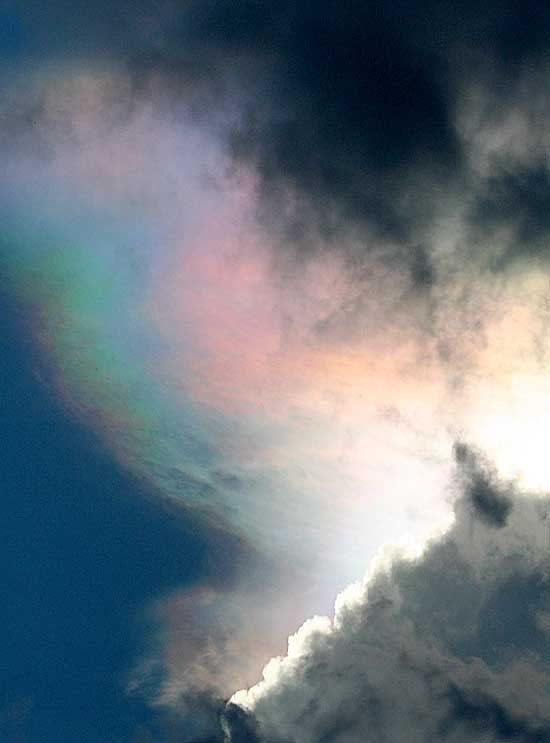 Got home earlier this week after five days in Mashatu Game Reserve, in the far eastern corner of Botswana.
It's summer, so can be brutally hot, as was the case when we arrived.
But then there was a storm on our first night, followed by two days of cloudy, cool weather. That was good for everyone - animals emerged from their slumbering in the shade and gave us some excellent sightings, including cheetah on the hunt and lion cubs at play.
Once the sun came out again we were treated to spectacular storm clouds in the late afternoons.
The picture above shows a rainbow within the clouds - an amazing sight that held us spellbound as the colors of the spectrum seeped out against a backdrop of deep blue sky and the looming storm.
As the clouds became more ominous, we headed back to camp in our open game drive vehicle. We got home dry, feeling lucky and privelaged to have experienced another of nature's awesome displays.
More pictures from Mashatu will be posted in the coming days, so do come back

Today's pictures: Cheetah Series
January 30, 2006

9.33am - cheetah female walks, unconcerned,
in front of our vehicle which is parked near
edge of dry riverbed.

She pauses briefly before disappearing over the edge into the riverbed.

9.34am - She reappears on the other side

...... and bounds up the bank.

9.35am - She stands quietely on the opposite bank, observing whatever is hidden behind the trees and bushes, before disappearing out of site. One of our party sees a brief flash of spots among the trees. We follow in our vehicle, but the banks are steep and we take it slowly and carefully.

9.40am - Once on the other side, we go a few hundred meters and find the cheetah lying in an open, grassy area, still breathing heavily, with a young impala clamped in her jaws. A few minutes later she walks off with the impala in her teeth and lies under a tree - we drive away and leave her in peace.
Photo details: Pictures taken on Jan 21 in Mashatu Game Reserve, Botswana, on a cloudy morning ater it had rained during the night.
Camera: Canon EOS Digital Rebel; Lens: Canon 100-400 F5.6 IS zoom; ISO: 400

Please Note: Pictures displayed on this blog are copyright protected. View them online, enjoy them, but kindly do not use them for anything else. Should you wish to purchase an image or require clarification on use, please contact me.

Back to top of page
Previous Entries
By Month
By Category
---
My Original Blog
2005 Entries
2004 Entries
2003 Entries
---
Who Am I?
Brief Bio