Scotch Macaskill's Wildlife Blog
IMPORTANT: Please note that from April 2009 this Blog's Web address changed as a result of a switch in the blogging platform we use. It's still an integral part of the Wildlife Pictures Online website and, we hope, will continue providing entertaining and enjoyable content in the form of wildlife images, news, views and information.
For the most recent posts, links, and other resources, please visit the new Wldlife Photography Blog.
Today's Picture: Cheetah
May 7, 2007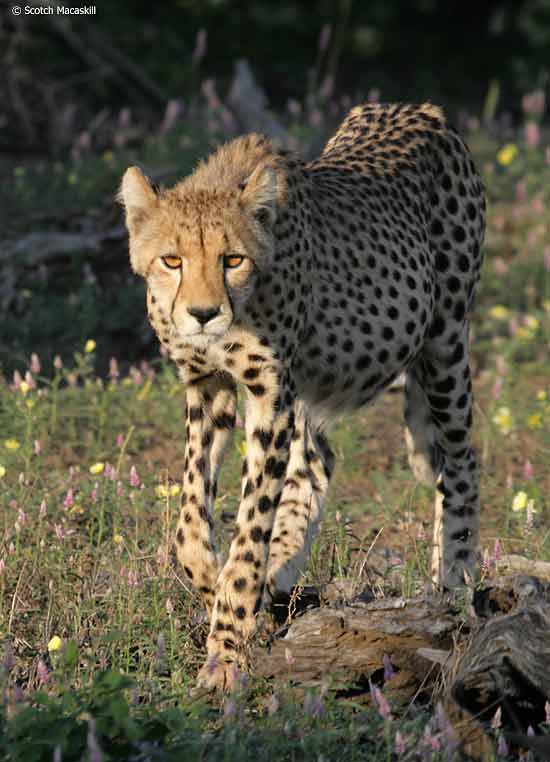 Photo Details: An inquisitve young cheetah (Acinonyx jubatus) steps out of the shade to take a closer look at our safari vehicle, Mashatu Game Reserve, Tuli Block, Botswana.
Camera: Canon EOS 400D; Lens: Canon 100-400 IS Zoom; Focal Length: 330mm; Shutter speed: 1/640; Aperture: f7.1; ISO: 400.
Additional Info: A closer look at the photo above shows the animal has a full belly. The previous evening, on our drive back to camp well after sunset, we were extremely fortunate to spot four cheetah, including this one, feeding on a big male impala (right).
While we watched, the four - comprising a mother and three sub-adult cubs - were able to eat their fill without the usual harassment from larger predators. Although there were a few jackals sniffing around, they were no real threat and were easily seen off by the cheetahs. It was only once the cats had fully satisfied their hunger and moved off that the jackals quickly took over to feast on the remains of the impala.

Today's Picture: Giraffe Sticking its Tongue Out
May 10, 2007
Photo Details: Giraffe (Giraffa camelopardalis) flexing its tongue, Khama Rhino Sanctuary, Botswana.
Camera: Canon EOS 400D; Lens: Canon 100-400 IS Zoom; Focal Length: 340mm; Shutter speed: 1/500; Aperture: f5.6; ISO: 400.
Additional Info: What you see of the giraffe's tongue above is just the tip - their tongues are seriously long, up to 45cm or about 18 inches! This enables a giraffe to feed very selectively, pulling green leaves and small twigs into its mouth with its tongue, often targeting the choicest leaflets that grow between the thorns of acacia trees.
If you'd like to read more about this behavior, please see "Giraffe Adds Tasty Morsels to its Daily Diet".

Today's Picture: Lioness and Cubs on a Kill
May 13, 2007
Photo Details: Lioness (Panthera Leo) with her four cubs feeding on a warthog she killed, Mashatu Game Reserve, Tuli Block, Botswana.
Camera: Canon EOS 400D; Lens: Canon 80-200 F2.8 Zoom; Focal Length: 200mm; Shutter speed: 1/80; Aperture: f2.8; ISO: 400.

Today's Picture: Leopards Honing their Hunting Skills
May 17, 2007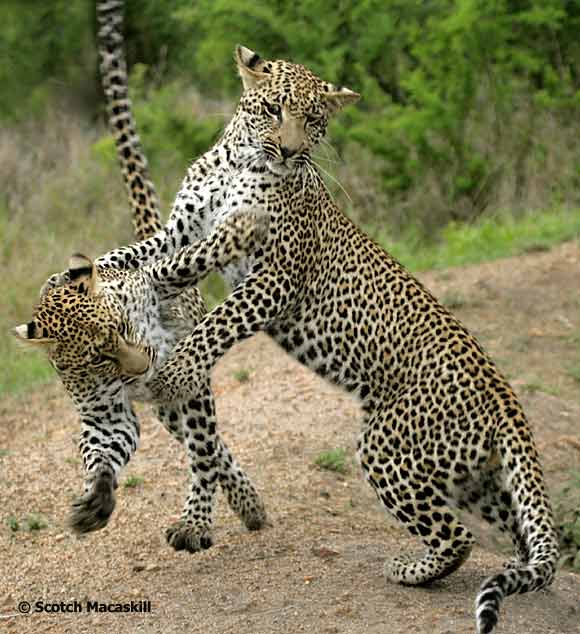 Photo Details: Young leopard siblings at play, honing their hunting and fighting skills, Elephant Plains Game Reserve, Sabi Sands, South Africa.
Camera: Canon EOS 400D; Lens: Canon 100-400 IS Zoom; Focal Length: 100mm; Shutter speed: 1/640; Aperture: f5.0; ISO: 400.
Additional Info: The above photo is one of 30 new images that I've added to the

Amazing video - battle of the lions, buffalo, and crocodiles
May 20, 2007

This awesome video was taken in South Africa's Kruger National Park and depicts an epic confrontation between lions, a herd of buffalo and a couple of opportunistic crocodiles trying their luck.

The video, from YouTube, is quite long (about 8mins) and, if you don't have a fast connection, it's a good idea to first click on the play arrow then immediately hit the pause button to allow a complete download - that way you won't have constant stoppages.

You can view the original on YouTube from here.

Today's Picture: Fleeing Impala
May 23, 2007
Photo Details: Impala (Aepyceros melampus) antelope in flight, Mashatu Game Reserve, Tuli Block, Botswana.
Camera: Canon EOS 400D; Lens: Canon 100-400 IS Zoom; Focal Length: 375mm; Shutter speed: 1/25; Aperture: f32; ISO: 400.
Additional Info: We were on a game drive when impala started running across our path, some distance ahead. We couldn't see the main herd because of intervening bush and trees, but something had spooked them and they were now fleeing past in ones and twos.
This was a good opportunity to try and get some panned shots, using a slow shutter speed to give a more dramatic feeling of speed by blurring the background. The problem in this type of situation is that one doesn't have time to make a bunch of changes to the camera settings.
I had previously set my shutter speed to 1/25th under the shutter priority setting (Tv) in case an opportunity arose for taking panned shots, then switched back to aperture priority (Av). This is the setting I use most the time, opting for a wide aperture and fast shutter speed to freeze the subject and throw the background out of focus. (In this way I only have two main settings to worry about - Av or Tv - but it's still very easy to leave the camera on the slow shutter speed until the next picture opportunity, resulting in some very blurry shots).
In this instance it was quick to turn the dial to Tv, knowing a slow shutter speed had been pre-selected - which was what I wanted as I tried to pan the camera in tandem with the subject's movement. Ideally I'd like to have made other changes as well, like drop the ISO from 400 to 100, switch from one-shot auto-focus to AI Servo (follow focus), and from single-shot to continuous shooting.
It's easy to make these selections if you have time - when, for example, you see a herd of zebra ahead and you suspect they're going to run across your field of view. But in most cases wild animals are less predictable and you often have to grab whaterver opportunities arise.
I know some will look at this photo and wonder why "it's all blurry" - but for me it portrays the speed and desperation of "running for your life" better than would a picture of the impala frozen in flight.

New Leopard Pictures Added
May 28, 2007
© Kevin Podmore

A new set of Leopard Pictures has been added to the main site. In total 18 images have been included.

Most the leopard photographs were taken in the Sabi Sands Game Reserve while staying at Elephants Plains Game Lodge, a family-run lodge within Sabi Sands.

In addition, the original Leopards page has been revamped, now also showcasing images mainly from Elephant Plains.

Back to top of page
Previous Entries
By Month
By Category
---
My Original Blog
2005 Entries
2004 Entries
2003 Entries
---
Who Am I?
Brief Bio