Scotch Macaskill's Wildlife Blog
IMPORTANT: Please note that from April 2009 this Blog's Web address changed as a result of a switch in the blogging platform we use. It's still an integral part of the Wildlife Pictures Online website and, we hope, will continue providing entertaining and enjoyable content in the form of wildlife images, news, views and information.
For the most recent posts, links, and other resources, please visit the new Wldlife Photography Blog.
Today's picture: Spotted Hyena
May 11, 2006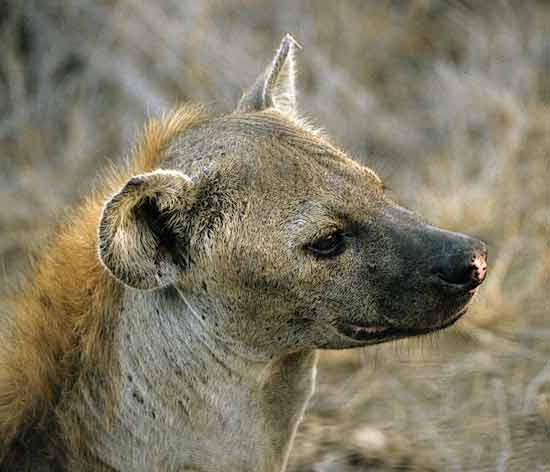 Photo Details: Spotted Hyena (Crocuta crocuta) portrait, Kruger National Park, South Africa. © Scotch Macaskill
Camera: Canon EOS 50E (Elan)
Lens: Canon 80-200mm F2.8 zoom
Film: Transparency
Scanner: Nikon Coolscan V

Today's picture: Swimming Lion
May 18, 2006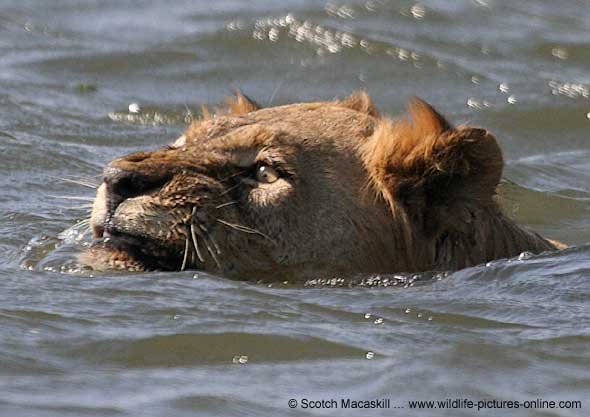 Photo Details: Adult male lion (Panthera Leo), swimming in the Zambezi River, Lower Zambezi National Park, Zambia.
Camera: Canon EOS 350D
Lens: Canon 100-400mm IS zoom
Focal Length: 400mm
Shutter Speed: 1/2000
Aperture: F5.6
ISO: 800
Read the Story: We were staying at Mwambashi River Lodge in the Lower Zambezi National Park when we spotted this lion swimming in the Zambezr River, which is the fourth largest in Africa. If you'd like to read more about this unusual sighting - and what prompted the big cat to take to the water - please see Lion Swims Zambezi

Today's picture: Baobab Trees
May 24, 2006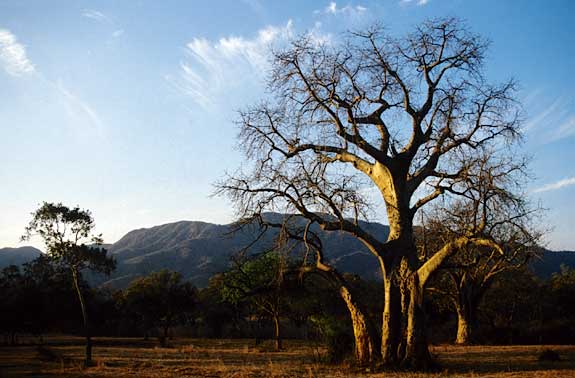 Photo Details: Baobab Trees bathed in warm afternoon light, Lower Zambezi National Park, Zambia.
Additional Info:
For groups or families, the Lower Zambezi NP offers a close-to-perfect African safari vacation. The Zambezi River is the dominant feature of the park and provides a range of activities not normally found in wildlife sanctuaries.
This means you're not limited to the twice-daily game drives that are the staple fare of many game parks. Instead, you can choose to:
Canoe the river with an experienced river guide
Take a leisurely sundowner cruise
Go fishing from the comfort of a powerboat
Try your hand at fly fishing from the banks
Take a game drive
Go on a guided walk
Laze around the swimming pool and enjoy the view
This variety is ideal where you have people, particularly teenage kids, in your group or family with diverse interests as most tastes are catered for and there never need be any dull moments.

To find out more and see the pictures, please read Safari Lower Zambezi.

Today's picture: Nile Crocodile
May 25, 2006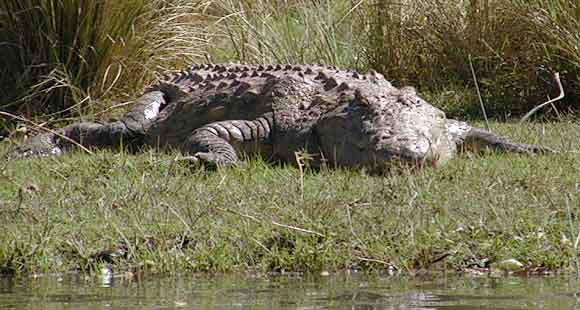 Photo Details: Nile Crocodile (Crocodylus niloticus) basking on riverbank, Lower Zambezi National Park, Zambia.
Camera: Olympus C-2100 UZ; Focal Length: 70mm; Shutter Speed: 1/500; Aperture: F5; ISO: 100
Additional Info: Gliding past a huge crocodile only a couple of meters away makes you feel particularly vulnerable when you're in a canoe.
But it's not so much the crocs as the hippos that send the adrenaline surging while canoeing the picturesque, narrow channels that are fed by the Zambezi River.
Hippos are particularly fond of these channels - as are the professional River Guides - so you have to trust your guide to negotiate a way past without causing undue offence.
Fortunately, however, a canoe safari is not only about confrontation with grumpy local residents - there are also sublime periods of unhurried drifting through pristine African wilderness.
See Canoe Safari on Lower Zambezi for more pictures and to read about this unique form of game viewing.

Today's Picture: Giraffes mating
May 27, 2006
Photo Details: Giraffe pair (Giraffa camelopardalis) about to mate, Weenen Nature Reserve, KwaZulu-Natal, South Africa.
Camera: Nikon D70; Focal Length: 105mm; Shutter Speed: 1/400; Aperture: F16

More on Giraffes: An estrous giraffe cow will be courted by a series of bulls, the ones of higher rank soon displacing those lower down the hierarchy. By the time the cow is receptive, the top-ranking bull will have displaced all his lower-ranking rivals and only he will mate with the cow.

Females first become pregnant in their fourth year, whereas males must wait until they're about seven before they're mature enough to compete with the other males.

Gestation period is about 450 days and a single calf is produced at birth. The female gives birth standing up and the calf can stand within five minutes.

Today's Picture: The Victoria Falls
May 29, 2006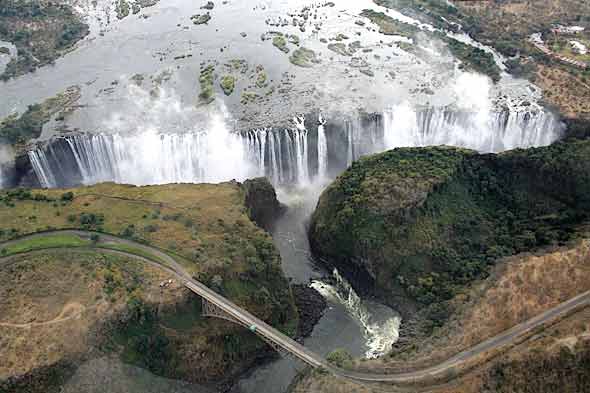 Photo Details: Victoria Falls taken from a helicopter, showing the expanse of falling water, and the Victoria Falls Bridge, completed in 1905. The bridge, brainchild of Cecil Rhodes, was designed by Sir Ralph Freeman, the same engineer who designed the Sydney Harbour Bridge.
Camera: Canon EOS 350D; Lens: Canon 18-55mm Zoom; Focal Length: 18mm; Shutter Speed: 1/2000; Aperture: f4.5; ISO: 800
Additional Information: The Victoria Falls, also known as "the smoke that thunders", are one of the Seven Natural Wonders of the World.
There are certainly higher waterfalls than Victoria, but few can rival the extraordinary visual spectacle of this mile-wide curtain of water plunging into the chasm 110m below.
What makes the falls even more amazing is that the massive volume of water plummeting down this wide expanse of the Zambezi River is then funnelled into a narrow gorge, creating a series of spectacular rapids downstream. This area is understandably famous for its white-water rafting.
The falls can be viewed from both Zimbabwe and Zambia as the river at this point forms the boundary between the two. There is a thriving tourism industry in the region, with Livingstone in Zambia the one hub.
The other hub is Victoria Falls town in Zimbabwe, which previously totally overshadowed its once-shabby counterpart across the border.
However, since mad Bob Mugabe has managed to destroy much of Zimbabwe's economy, including the tourism industry, Livingstone has blossomed at the expense of Vic Falls.
But it's not only the town of Livngstone that's capitalized on Zimbabwe's economic and social collapse, Zambia itself has become a prime safari destination with its range of national parks and game reserves growing in popularity.
Back to top of page
Previous Entries
By Month
By Category
---
My Original Blog
2005 Entries
2004 Entries
2003 Entries
---
Who Am I?
Brief Bio
Back to Wildlife Blog Home Page
Contact Details: Scotch Macaskill, Dirt Road Traders, Currys Post Road, Howick, KwaZulu-Natal, South Africa. Tel: +27 (0)82 578 2329. Privacy: Your privacy is guaranteed. See our Privacy Policy for more. This site accepts advertising and other forms of compensation - see Disclosure and Advertising for details. Site updated: 2019. Copyright © 2002 - 2019 Scotch Macaskill