Scotch Macaskill's Wildlife Blog
IMPORTANT: Please note that from April 2009 this Blog's Web address changed as a result of a switch in the blogging platform we use. It's still an integral part of the Wildlife Pictures Online website and, we hope, will continue providing entertaining and enjoyable content in the form of wildlife images, news, views and information.
For the most recent posts, links, and other resources, please visit the new Wldlife Photography Blog.
WildCam Africa Ready to Roll Again
August 20, 2006

Well, it's official - WildCam Africa from Pete's Pond in Mashatu Game Reserve, Botswana, is due back on Monday, August 21.

This is the message posted on the National Geographic Discussion Forum: "Welcome back to Pete's Pond in Mashatu for season two of WildCam Africa! We hope to have the live feed from Mashatu back on line on Monday, August 21."

For those familiar with the WildCam and Pete's Pond, this is exciting news as once again there will be live feeds from this waterhole in Botswana's remote Tuli Block.

It's near the end of winter in Mashatu, traditionally the driest time of the year, so thirsty animals have little option but to head to Pete's Pond to drink. This means there's near-constant wildlife activity - from elephants to guinea fowls - coming to the water's edge. There are of course quiet times, so patience is required.

The variety of wildlife can provide fascinating viewing, as some dedicated fans found last year during the WildCam's first season, when they even named some of the regulars and became expert at taking screenshots of the wildlife.

You can read more about Pete's Pond from my main site.

Today's Picture: Samango Monkey Behind Bars
August 20, 2006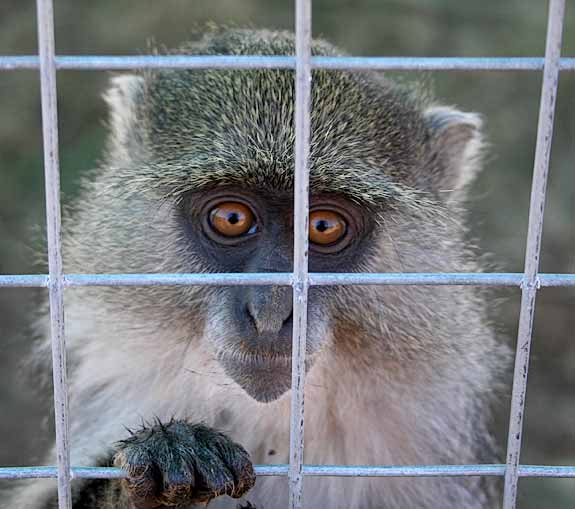 Photo Details: Samango monkey (Cercopithecus mitis) in caged enclosure, Ishona Langa Wildlife Sanctuary, KwaZulu-Natal, South Africa.
Camera: Canon EOS 350D; Lens: Canon 18-55mm zoom; Focal Length:50mm; Shutter speed: 1/200; Aperture: f5.6; ISO: 400
Additional Info: This young samango monkey will probably never be free, destined to spend the rest of its life behind bars.
Raised as a "pet", it's already too habituated to people and reliant on them to "unlearn" this behavior and survive in the wild. Although no substitute for freedom, it does at least have other monkeys as companions, lives in a large enclosure and is well cared-for.
This samango and other monkeys that have suffered the same fate are being used to educate children that wild animals - no matter how cute - should never be kept as pets. More about this in the coming days.

Choosing a Digital Camera for Hiking
August 27, 2006

The "great outdoors" can provide spectacular photo opportunities, so it's definitely worth considering a digital camera for hiking or when walking in the bush.

But what to buy? The answer depends to some degree on the type of hiking you do - day hikes or longer treks - and whether you want to take just scenic shots or also pictures of the wildlife, including birds.

Weight and size are always factors when walking, so in most cases a compact digital camera that is comfortable to carry and easily accessible will be the answer.

If you want to take pictures of wildlife, then you'll need a more powerful lens, which means more weight and bulk.

Recommended features in a compact digital camera for hiking:
3x Optical zoom lens
Optical viewfinder
Image-stabilizer
Macro mode
Today's picture: Nile Crocodile
August 27, 2006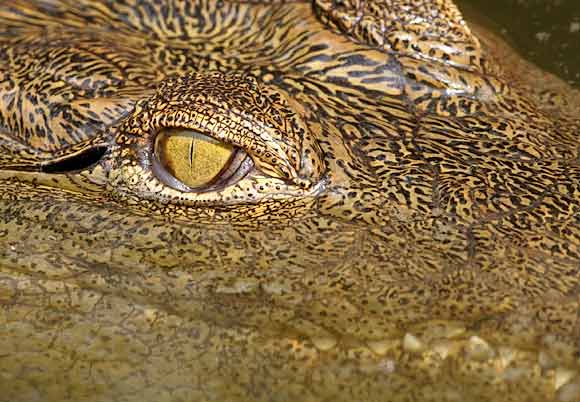 Photo Details: Close-up of young Nile Crocodile (Crocodylus niloticus) partially submerged, Crocodile Centre, Greater St Lucia Wetland Park, KwaZulu-Natal, South Africa. Camera: Canon EOS 350D; Lens: Canon 100-400 IS Zoom; Focal Length: 400mm; Shutter speed: 1/250; Aperture: f8; ISO: 400

Back to top of page
Previous Entries
By Month
By Category
---
My Original Blog
2005 Entries
2004 Entries
2003 Entries
---
Who Am I?
Brief Bio
Back to Wildlife Blog Home Page
Contact Details: Scotch Macaskill, Dirt Road Traders, Currys Post Road, Howick, KwaZulu-Natal, South Africa. Tel: +27 (0)82 578 2329. Privacy: Your privacy is guaranteed. See our Privacy Policy for more. This site accepts advertising and other forms of compensation - see Disclosure and Advertising for details. Site updated: 2019. Copyright © 2002 - 2019 Scotch Macaskill