Scotch Macaskill's Wildlife Blog
IMPORTANT: Please note that from April 2009 this Blog's Web address changed as a result of a switch in the blogging platform we use. It's still an integral part of the Wildlife Pictures Online website and, we hope, will continue providing entertaining and enjoyable content in the form of wildlife images, news, views and information.
For the most recent posts, links, and other resources, please visit the new Wldlife Photography Blog.
Today's Picture: Jackal Pair
October 9, 2006
Photo Details:: A pair of black-backed jackals (Canis mesomelas) in dappled shade, late afternoon, Mashatu Game Reserve, Botswana.
Camera: Canon EOS Digital Rebel; Lens: Canon 100-400 IS zoom; Focal Length: 330mm; Shutter Speed: 1/500; Aperture: f8; ISO: 400.

Additional Info: These attractively marked animals with their pointy faces and large, upstanding ears can often be seen in game parks and nature reserves as they are active during the day and at night. In the heat of the day they lie up in holes or in the shade of trees and bushes. They live alone or in small groups, and pairs will often stay together for life.

Among farming communities in southern Africa jackals have a bad name as sheep killers, although this is often undeserved as research has shown that the sheep thought to have killed by jackals are actually the victims of domestic dogs.

In spite of their reputation as scavengers living off the remains of lion and leopard kills, jackals catch nearly all their own food so can survive in arid areas, particularly as they eat anything from fruit through to insects, rodents, birds and small antelope.

My Site Hijacked!
October 10, 2006

I live in South Africa, where vehicle hijacking is commonplace and a constant threat. Although friends of mine have been hijacked, thankfully it hasn't yet happened to me, possibly because I drive a beat-up VW sedan that's nearly 20 years old.

But yesterday I found to my consternation that my website, wildife-pictures-online.com, has been hijacked.

I received a polite email from Elephant Care International, letting me know about use of one of my pictures on their non-profit site. They had taken the trouble to acknowledge the source of the image, with a link back to my bio. But I was confused by the URL of the link - nothing to do with my site.

So I clicked on it and found to my astonishment that my whole site was sitting within someone else's domain name. When checking the pages, I found these guys had changed all the internal navigation and even changed the Google AdSense code, substituting their unique customer ID for mine.

So what's to be done? I've reported the offending site to Google for abuse of Adsense policy, contacted their host and now am trying to contact the owner of the site - but of course there's no contact info whatsoever on their site.

Black and White Making a Comeback
October 11, 2006

Black and White Photographs are back in vogue. Although black and white photography has always had its own special appeal, the popularity of this art form seemed for many years to be in decline.

Digital technology, including print-on-demand, has made color printing much more affordable, providing customers with a vast selection of high quality prints and posters in vibrant color.

Simultaneously, digital photography has accelerated the demise of film and the the traditional black and white darkroom, resulting in a steady drop in the supply of quality black and white photographs.

But digital cameras have also bred a new generation of keen photographers and a rejuvenation of interest in photography. Imaging software and more sophisticated digital cameras meanwhile are making it much easier to produce black and white images. So, while digital photography was largely responsible for the demise of traditional black and white photography, paradoxically it's now the catalyst that's injecting new life into the medium.

Please browse our selection of Black and White Fine Art Prints to see not only nature subjects, but also eyecatching cityscapes and vintage people shots.

World's First 10 Megapixel Camera Phone
October 13, 2006

Another milestone in camera phones has been reached with the launch by Samsung of a 10-megapixel camera phone (model: SCH-B600) on the Korean market.

According to Samsung, the B600 offers the same level of picture-taking sophistication that a 10-megapixel digital camera offers. The camera function includes 3x optical zoom and 5x digital zoom. It also has auto focus and a flash unit that performs optimally for 10 megapixel photographs.

Other features include white balance controls, manual focus, continuous picture-taking, and interval picture-taking functions, plus Bluetooth support.

Waterbuck and Goliath Heron
October 22, 2006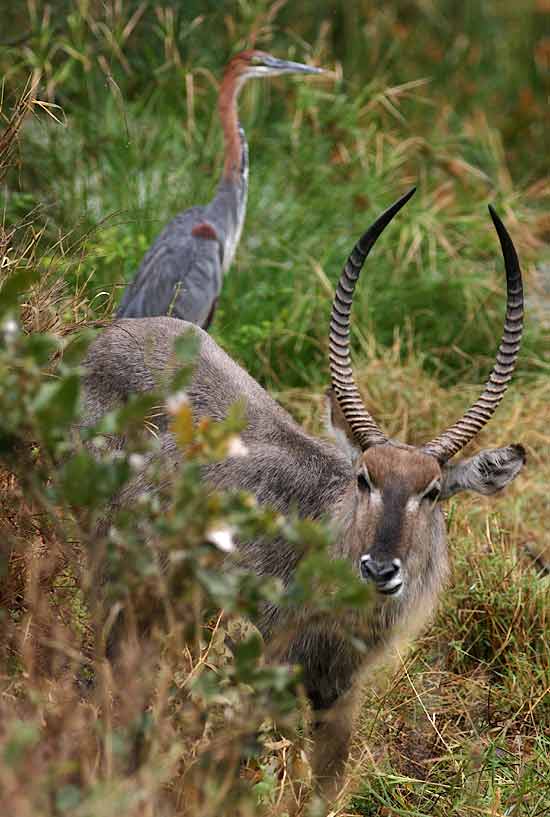 Photo Details: Male Waterbuck (Kobus ellipsiprymnus) feeding in marshy wetland with Goliath Heron (Ardea goliath) standing in the background, Kruger National Park, South Africa.
Camera: Canon EOS Digital Rebel (300D); Lens: Canon EOS 300mm F4; Shutter Speed: 1/800; Aperture: F4; ISO: 400

Bob Atkins on Long Lenses
October 23, 2006

Noted wildlife photographer Bob Atkins has an excellent article on the Adorama Academy web site about long lenses and the gear you need for getting great shots of animals in the wild.

"The advent of digital SLRs has made life easier for the wildlife photographer," Atkins points out. Smaller-than-35mm imaging sensors turn moderate telephoto lenses into effectively longer lenses, and this means digital photographers can buy shorter lenses and save money but still get the magnification they need.

In the article, Atkins explains how digital photographers can benefit from this and other innovations such as image stabilization.

"Thanks to Bob's background in optical engineering, he will give you sold, scientifically-backed information that cuts through the PR and advertising, so readers can make an informed buying decision," notes Adorama Academy editor Mason Resnick.

Read the full article, Wildlife Service: Beyond Long Lenses.

Back to top of page
Previous Entries
By Month
By Category
---
My Original Blog
2005 Entries
2004 Entries
2003 Entries
---
Who Am I?
Brief Bio
Back to Wildlife Blog Home Page
Contact Details: Scotch Macaskill, Dirt Road Traders, Currys Post Road, Howick, KwaZulu-Natal, South Africa. Tel: +27 (0)82 578 2329. Privacy: Your privacy is guaranteed. See our Privacy Policy for more. This site accepts advertising and other forms of compensation - see Disclosure and Advertising for details. Site updated: 2019. Copyright © 2002 - 2019 Scotch Macaskill