Scotch Macaskill's Wildlife Blog
IMPORTANT: Please note that from April 2009 this Blog's Web address changed as a result of a switch in the blogging platform we use. It's still an integral part of the Wildlife Pictures Online website and, we hope, will continue providing entertaining and enjoyable content in the form of wildlife images, news, views and information.
For the most recent posts, links, and other resources, please visit the new Wldlife Photography Blog.
Back After Trip to Zimbabwe and Botswana
September 19, 2007

Apologies for not adding anything here for some time, but I was away for close to three weeks. We travelled from South Africa into Botswana, then across the border at Pandamatenga (on the road between Nata and Kasane) into Zimbabwe.

In Zimbabwe we spent a week camping in Hwange National Park - my fist visit to this once-popular game reserve that is now sadly under-utilised. Contrary to rumours, there is plenty of game with huge herds of elephant frequenting the main dams and waterholes. We also saw large numbers of zebra, plus hippo, buffalo and a good variety of antelope, included the rare roan and sable antelope.

On leaving the park we travelled back into Botswana, on to Maun for a few days, then into the Okavango Delta and finally up the Delta panhandle to Shakawe.

Game viewing in general was good and I hope to add photos from the trip in the coming days. My biggest disappointment on returning was to find that a UV filter I stuck on my tele lens to protect it against the dust, pervasive at this time of year, was faulty and had left many of my pictures badly blurred. The only consolation is that - because I was battling to keep it dust-free - I removed it after a few days and fortunately never replaced it.

So any photographers reading this - please take this experience as a warning to thoroughly test any filters before using them, particularly the cheaper ones. Certainly I will never again merrily stick an untried and untested filter in front of an expensive lens simply to keep dust off the front element.

But all-in-all a most relaxing and enjoyable time in the African bush and I hope at some stage to add more about Hwange and the way the park's staff are managing to cope under obviously difficult conditions.

Today's picture: Elephant Study
September 19, 2007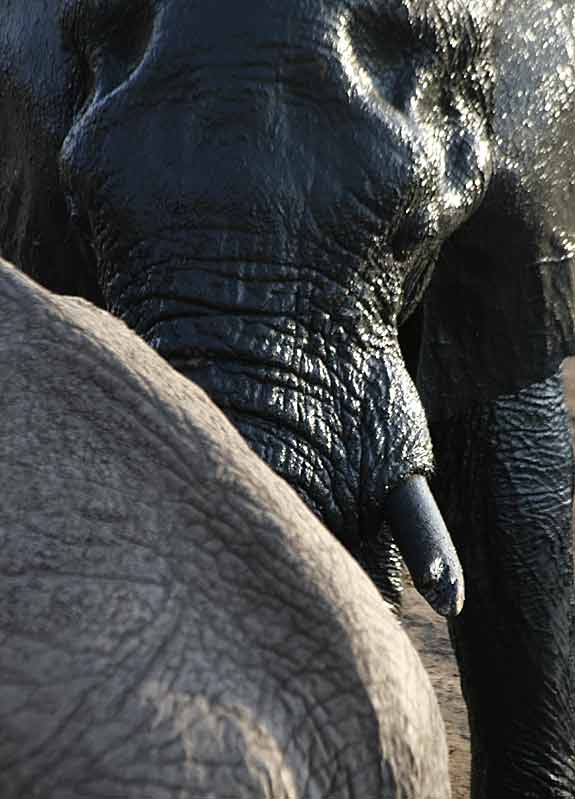 Photo Details: Two elephants (Loxodonta africana), one dusty and dry, the other glistening after a mudbath, mill about at Masuma dam, Hwange National Park, Zimbabwe.
Camera: Canon EOS 400D; Lens: Canon 70-300 IS Zoom; Focal Length: 300mm; Shutter speed: 1/100; Aperture: f8; ISO: 200.
Additional Info: These elephants were part of a large group jostling for position near the source of fresh water that is pumped into Masuma dam during the dry winter months. Some of the more dominant animals would first drink the fresh water, then splash about in the dam, stirring up the mud with no concern for the resident hippos and other mammals that have to drink from the dam.
Some, like the obviously wet one in the picture above, would then return to where the clean water flows into a narrow canal, to wash out their trunks and drink some more.

Today's picture: Carmine Bee-Eaters
September 25, 2007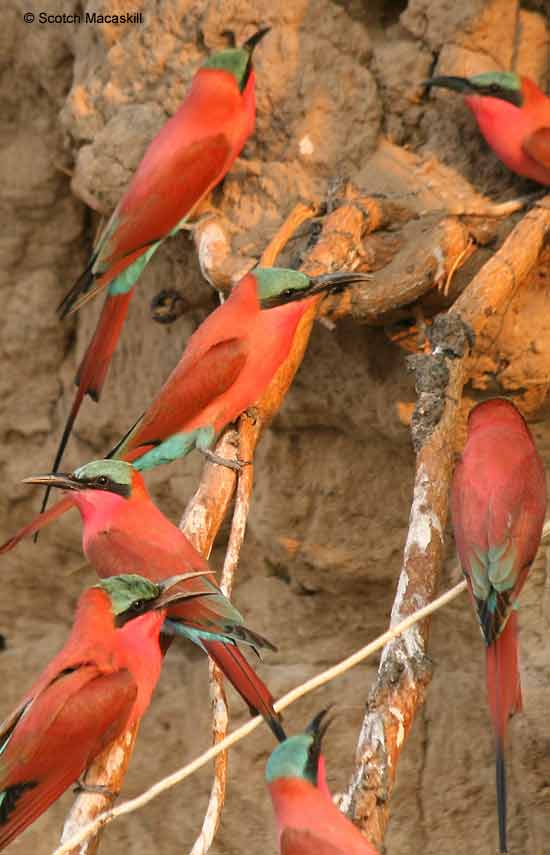 Photo Details: Carmine bee-eaters (Merops numicoides) gather along riverbank soon after arriving for the southern summer, Shakawe, Botswana.
Camera: Canon EOS 400D; Lens: Canon 70-300 IS Zoom; Focal Length: 210mm; Shutter speed: 1/125; Aperture: f5; ISO: 400.

Today's picture: Male Lion Licking His Lips
September 28, 2007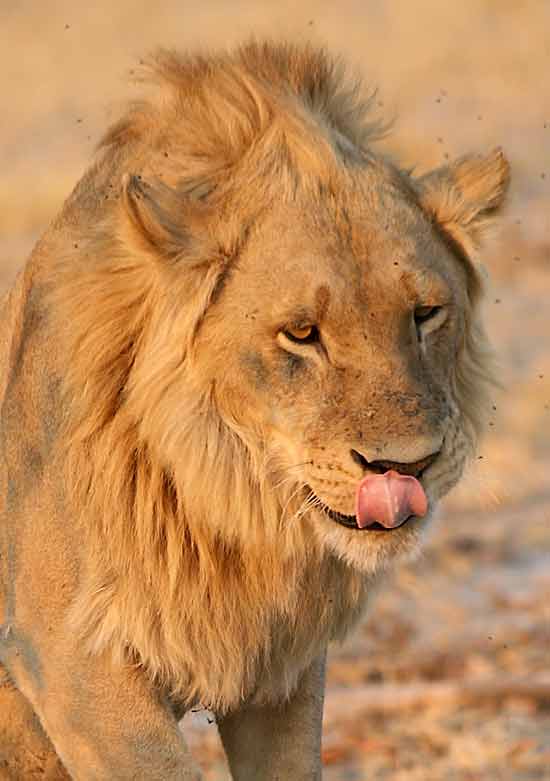 Photo Details: Young male lion (Panthera leo) caught in the last rays of the day licks his lips (in anticipation?) as he and two companions prepare for the night's hunting, Okavango Delta, Botswana.
Camera: Canon EOS 400D; Lens: Canon 70-300 IS Zoom; Focal Length: 220mm; Shutter speed: 1/320; Aperture: f5; ISO: 400.
Please Note: Pictures displayed on this blog are copyright protected. View them online, enjoy them, but kindly do not use them for anything else. Should you wish to purchase an image or require clarification on use, please contact me.

Back to top of page
Previous Entries
By Month
By Category
---
My Original Blog
2005 Entries
2004 Entries
2003 Entries
---
Who Am I?
Brief Bio
Back to Wildlife Blog Home Page
Contact Details: Scotch Macaskill, Dirt Road Traders, Currys Post Road, Howick, KwaZulu-Natal, South Africa. Tel: +27 (0)82 578 2329. Privacy: Your privacy is guaranteed. See our Privacy Policy for more. This site accepts advertising and other forms of compensation - see Disclosure and Advertising for details. Site updated: 2019. Copyright © 2002 - 2019 Scotch Macaskill